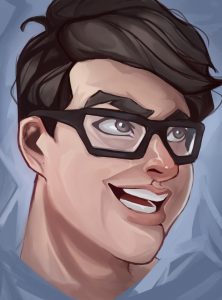 Tal Bauer is an author of gay romantic suspense/thriller novels.
The world needs more gay heroes, gay love stories, and powerful women kicking ass. I try to write those stories. With a background ranging from law enforcement to humanitarian aid, my stories are global in scope and with diverse characters in all roles. My goal is to help normalize gay characters as action heroes and to bring to life strong, dynamic, holistic women in all of my novels.
Follow Tal!
Interviews, Guest Blog Posts, Reviews, and Awards
Are you a blogger/reviewer, and do you want to review one of Tal's novels! Drop me a line and let me know! Please include a link to your blog/review site. You can request to review an already-published book at any time!
Interviews
March Guest Blog @ Alpha Book Club – A little about my research going into Enemy Within.
February Guest Blog @ Alpha Book Club – A little about my background and why I write.
Divine Magazine's In the Spotlight interview, after Enemies of the State was first published.
Reviews of Enemies of the State
Joyfully Jay – "Part romance and part political drama, Enemies of the State will have you on the edge of your seat in this new political thriller."
Gay Book Reviews – Gigi – "First off, plan your day around this one. You will NOT want to put it down."
Gay Book Reviews – Vaille – "I honestly don't know how I can possibly do this book justice. It. Blew. My. Mind."
Queercentric Books – Christina – "I said it at the beginning, and I'm going to say it again. Enemies of the State seriously blew me away. I see this being one of my top 10 reads of the year."
Sinfully MM Romance – Freya – "Enemies Of The State, for me, was a literary orgasm."
MM Book Escape – "The author's descriptive narrative is brilliant and everything you could ask for in a book. This is an action packed drama, full of suspense and mystery on one level and on the next level there is an amazing love story building that takes the reader on an emotional journey…"
Book Reviews by Janis F & Leisha – "Tal's writing in relation to the build up of these two men falling in love is outstanding. You can feel all the emotions from each character and how they each feel from their different perspectives.  It is absolutely beautiful to read."
The Blogger Girls – "I was so captivated that I read it that night, all in one sitting!"
Scattered Thoughts and Rogue Words – "I loved the slow building romance between Ethan and Jack."
Alpha Book Club – "I was blown away by the premise and the pacing of this story."
Karen B. – "Gay Secret Service [agent] Ethan, and his presidential boyfriend Jack… are a delight to read about. Theirs is a sweet and sexy romance in a story that is also deeply passionate and wildly dramatic. I enjoyed every news brief, every secret rendezvous, every kiss…even the shoot-'em-up action…. This writer composes with expert believability, both on the political and on the personal fronts. I will definitely be reading this book again and again. Well worth the read!"
Reviews of Enemy of My Enemy
MM Book Escape – "Brilliantly laid out, masterfully told, highly, highly recommended."
Gay Book Reviews – Vaille – "I hyperventilated during some parts, physically leaning forward to read and clutching my I-pad, because I COULD NOT HANDLE THE TENSION."
Gay Book Reviews – Gigi – "I will also say that this book was absolutely riveting and suspenseful and you WILL be tense during many of these scenes."
Gay Book Reviews – Pravathy – "Enemy of My Enemy is a masterfully crafted suspense thriller with an equally beautiful and heart warming love story which will take you on a journey guaranteed to give you an unforgettable ride. A must read for all M/M aficionados."
The Blogger Girls – "Gasp. Oh. My. Gawd. What a ride!"
Just Love: Queer Book Reviews – "Tal knows how to write a fantastic, high-intensity, edge-of-your-seat suspense novel."
Joyfully Jay – "This second installment of this series matched, if not surpassed, the first book with a fast-paced plot that twisted with double crossings and dirty deals."
Alpha Book Club – Anya –  "Read this series. It will keep you on your toes. Fall in love with these guys like I did. You won't regret it :)"
Sinfully MM Romance – Freya – "Ohhhh and there are twists in the plot that left my heart in my mouth, and me reaching for something stronger than tea."
More coming soon.
Reviews for Interlude: First Noel
MM Book Escape – "If I had to sum up Interlude in two words, Absolutely Perfect, are the two that stands out, above all."
Alpha Book Club – Mollien – "I love how these characters are portrayed and this book brings out their softer more intimate side."
Alpha Book Club – Cee – "The best part of Tal Bauer's series, jumping into Jack and Ethan's world. The worst part, closing the last page."
Gay Book Reviews – Gigi – "This is a perfect interlude to the adrenaline rush that are books one and two."
Gay Book Reviews – Vaille – "Can ya say riiiiiiiiiimming…?????? Yowza!"
Gay Book Reviews – Pravathy – "What could I possibly say other than that I'm a gooey mess..!!"
Joyfully Jay – "If you have followed this series, this will be the interlude you won't want to miss."
Prism Book Alliance – Caroline – "It's like being on a constant roller coaster with the emotions all these circumstances bring out in the men – especially Ethan."
Sinfully MM Romance – Freya – "I found Interlude First Noel, to be more than just a wonderful Christmas treat."
Just Love: Queer Book Reviews – "Love love love love love."
Dog-Eared Daydreams – "Two books in and I'm thinking Tal Bauer can do no wrong. Five-plus stars for Interlude: First Noel. ♥"
More coming soon.
Reviews of A Time to Rise
The Novel Approach – Lindsey  – "What do you get when you take history, paranormal, religion and romance elements and tie them together in a plot? In this case—a masterpiece."
Gay Book Reviews – Pravathy – "I loved everything about this book and it took me on a ride which left me breathless wanting for more."
Gay Book Reviews – Gigi – "Hold on to your hats folks! This one is intense!"
Hearts On Fire Reviews – Wendy – "The measure of a great book is just how carried away you can get when reading it, and I found that I became completely absorbed with this one in my own little bubble where time stood still."
Sinfully MM Romance – Freya – "OMG, this has to be one of the easiest five stars I've ever given."
Joyfully Jay – "From the moment I picked it up, I wanted to be reading it every minute, and I found myself constantly thinking about the story when I had to put it down."
Two Chicks Obsessed – Morgan – "Can someone PLEASE make this into a movie because that would be epic!"
More coming soon.